Post by Uncle Buddy on Oct 1, 2014 22:04:31 GMT -8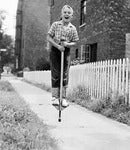 This is a matter of perspective, no? Not that I think energy comes from no energy.
Boiler injector: the drive steam and energy comes from the boiler. This energy was put there by burning coal; the ultimate source of the energy is not the point. The point is that the boiler fills itself with its own energy, almost loss free (almost no external work being done). Nearly all the energy invested into the drive steam ends up back in the boiler still usable. This is the point of departure for my pneumatic brain. The reason Giffard was ridiculed by eggheads long after he proved his device would work.
Air tank: the tank is pre-charged by an external energy source. Like burning coal to make steam, it takes energy to fill the tank. Once the tank is full, the air in the tank, according to my pneumatic brain, is the first source of energy to consider as a drive medium to get more air into the tank. Because there are no transformations--it's just air-to-air--Joule's experiment proves no external work is done, except unfortunately the pressure will go down as we mix high pressure with atmosphere to get medium or working pressure. That's with an injector. The tank air will be used in a minute or less, probably, with a normal injector. Truitt's 1000 psi tanks maybe not that fast, but still used fast. An air injector is just mass pushing mass, and the pushing mass is too squishy, it's not like Giffard's injector where steam becomes water and leaves a strong suction behind while doing so, for the entrainment of fresh water.
Solution A is to show that air does the same thing, if drive pressure is high enough, because its temperature will go down so much that the drive air liquifies in the nozzle. Then maybe something like a Giffard injector could be designed for use with air. Your objection I think is that it took energy to make that 1000 psi. Truitt as an example. What was Truitt's answer? A secret valve that "worked like a heart." Sounds like a double check valve. Which brings us to...
Solution B is to unbalance the static air in the tank and air lines so that it sloshes around at the speed of sound making pressure highs and lows much higher and lower than the pressure of the static tank air if it were actually static...which it isn't because pulsations are coming in from the compressor at all times. For Truitt's valve to actually work like a heart, the air must be pulsating in the line, and he has compressors running at all times to make sure this is happening. If Neal can put low pressure air into a 200 psi tank in 1936, maybe Truitt figured out how to put low pressure air into a 1000 psi tank in 1973. I don't know.
What about a 2-stage equalizer? Say Truitt did like Neal to get the air into a 200 psi tank and then sucked air out of there with his 3-stage compressor and put that air into the 1000 psi tank through another equalizer setup? Neal's is a 15x pressure ratio, and from 214.7 psis to 1014.7 psia there is only a 5x pressure ratio. According to Tommy's calculations, 200 psi should be about as much pressure as can be had with Neal's process. But is pressure really the important parameter, or would that be
pressure ratio?
In other words, if Neal can put 1 atmosphere into 15 atmospheres then can't he put 15 atmospheres into 15 x 5 or 68 atmospheres?
No doubt there would be a hardware problem and Truitt did give his machine to the Army and NASA probably due to just such difficulties.
Trying to get back to Tommy's point, the 1000 psi to run an injector would have to be made by energy. But we have learned that pressure is not energy. Yes, the tank has to be initially filled by an external source, no doubt. But 1000 psi is just a threshold, just a measurement. Joule says there is no energy lost from the system if 1000 psi is mixed with 50 psi to create 100 psi or whatever; pressure equalization within the system lowers pressure but doesn't bleed energy out of the system. Then a valve that works like a heart, as Neal via Tommy shows, will get atmosphere and its free energy into the system. The moving car is like a flywheel and keeps the little air pumps running all the time. Pulsatory energy is continuously available to pump tanks up to whatever threshold is needed. This is what Truitt was trying to explain when I asked him how he got around the laws of physics and he said, "There are three separate systems." Air, Electric, and the other one whatever it was. Maybe mechanical motion of the car, air pressure, and electric. The high pressure air wasn't needed for everything, just for one thing. The electrical wasn't needed for everything, just for what it did best. With each task assigned to the best provider, a threshold pressure of 1000 psi could be maintained.
Kinda rambling, I know. It's hard to talk about injectors when we probably don't need them. I have already stated more than once that Neal IS an injector, it's just that the drive function is taken over by the sound wave so that the drive port and suction port are combined into one intake port. Neal is a two-port injector. The driven fluid becomes its own driver by alternating pressure peaks.
Kinda VERY rambling, I know. I want so badly to go outside and do the laundry, if I keep this up long enough, it might rain.